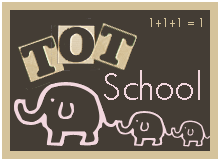 E is 22 months

And another week has gone by! This week was light on the Tot School. It seemed like every time I pulled something out for us to work on, E was not interested. Or she would decide that mommy's way of doing things was not how she wanted to do things. So, hmmm . . . what did we work on this week?
Learning Toys/Trays:
Pasta sorting was a hit for about 2 minutes this week. Then, apparently, it got very boring.
Sorting buttons by color was fun, too, but it was more fun to dump them all over the floor and refuse to help clean up!
Mommy thought E might have fun with her tower blocks. She did, when I built the tower so she could knock it down. Other than that, she had a good time picking each one up and placing them around the house in just the right places for me to step on or trip over.
Puzzles were the one thing she did well by herself this week. Look at all the pieces she put in! And no help from mommy, not even when she got frustrated!
Reading Basket:
There were counting books in our basket this week!
Olivia Counts by Ian Falconer
1, 2, 3, to the Zoo by Eric Carle
Counting Cockatoos by Stella Blackstone
Chicka Chicka 1 2 3 by Bill Martin, Jr.
The Very Hungry Caterpillar by Eric Carle
10 Little Rubber Ducks by Eric Carle
E's favorite this week was 10 Little Rubber Ducks, hands down. And entirely because of the sound button on the last page, she could really care less what the rest of the book was about! My favorite was Counting Cockatoos because on each page there are two cockatoos hidden for you to find! It was fun to see her try to figure out where they were. Some only had a tail showing and were more difficult to find.
Arts and Crafts:
We did a cut paper collage inspired by Henri Matisse for open ended art. You can see more pictures
here
.
Coloring at our new table!
We also had some fun playdough time, but I forgot to get pictures of that.
Photo of the Week:
my favorite little Husker!