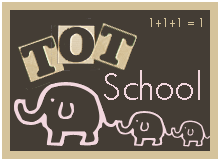 E is 21 months

This week's Tot School went really well! We have been working hard at setting aside some time to work on things this week. It seems to be working, and E has been requesting some of our Tot School toys at other times of the day, too!
Learning Toys:
We got a new toy this week, tower blocks! At first E just wanted to carry them around the house, but I showed her how to stack them up to make a tower and she thought that was pretty cool, too. By the end of the week, she was able to stack up 4 or 5 of them by herself.
We worked with our matching cards this week, as well. I changed them up and pulled out the body part ones. She's getting really good at this game!
E practiced her pouring skills with our rainbow rice box. Then we made our own shaker eggs with some old Easter eggs we still had lying around. She thought those were pretty neat, and kept opening them to dump out the rice, then asking me to refill them. Thank goodness it was all over the rice box!
I found some counting flashcards at Dollar Tree, and we started working on those this week. E can count very well from one to eleven, but she doesn't understand what those words mean yet. She loves to count to three and will often count her hands or feet and tell me she has three of them. So we worked on numbers one to five, and counted them by putting stones on top of each animal.
I pulled out her lacing set this week and she had fun stringing up all the animals. And then taking them for a walk again, as usual.
We also tried some sorting of shapes. I pulled out heart and star buttons and had her sort them into the heart and star bowls. She's been used to sorting colors, and I think the different colors and shapes made it difficult for her. I'll try this again, but with shapes that are all the same color.
Alphabet:
This week we've been working on Letter P. You can read my post about our letter of the week
here
.
I got the LeapFrog Letter Factory DVD the other day and I am amazed at what E is picking up from it! She'll talk to her magnet letters on the fridge and have them say their sounds, and she is correct at least 95% of the time! Her favorites are the kicking K and the W that raps and says "wuh, wuh, wuh!"
Reading Basket:
Our theme this week was pumpkins! We read a LOT of pumpkin books:
Five Little Pumpkins by Dan Yaccarino
The Pumpkin Fair by Eve Bunting
From Seed to Pumpkin by Wendy Pfeffer
Where is Baby's Pumpkin by Karen Katz
Too Many Pumpkins by Linda White
The Biggest Pumpkin Ever by Steven Kroll
Pumpkin Circle by George Levenson and Shmuel Thaler
Apples and Pumpkins by Anne Rockwell
Pumpkin Soup by Helen Cooper
E's favorite book of the week was The Biggest Pumpkin Ever. She kept asking for the mousie pumpkin book. My favorite was Pumpkin Circle. The photographs in this book are great and it's a wonderful nonfiction option. We're going to focus on it more this coming week as we gear up for Halloween!
Arts and Crafts/Pumpkin Theme:
We used our pumpkin theme for art time this week, making two different pumpkin pictures. The first one we made with some leftover colored rice. E helped paint the pumpkin with glue and then we sprinkled on the rice.
Later in the week we also made a torn paper pumpkin. I tore up the paper and painted the paper plate with glue, E stuck the pieces down on the plate. We're going to continue this craft and make it into a jack-o-lantern for Halloween.