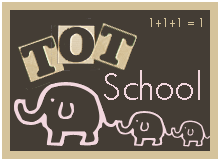 E is 27 months old
I kept things easy on myself this week and repeated our ocean animals activities from last week. E has been loving the seashells, and has gotten much better at using the tongs with them. Heck, I even have trouble with a few of the shells, so she's doing great!
lacing beads
matching ocean animals to picture cards
alphabet matching
seashell sorting (and pouring)
scissors practice
memory game
stacking blocks
A friend dropped off a new puzzle for E as a late birthday present. It's one of those fishing puzzles - we didn't have any of the magnet puzzles, and E thought it was pretty cool. It's kind of difficult to figure out where the pieces go, because there are no images underneath. So I painted dots in the colors of the different fish to help her figure out where things go. She's getting pretty good with it!
We made pancakes one morning for breakfast, and it was E's job to mix the batter. She thought it was pretty neat that she was eating the pancakes SHE made!
We did a LOT of art this week! We painted a nature catcher (idea from
Welcome to Our Wonderland
):
We did a
sparkly fish art project
to go with the story
Rainbow Fish
:
We made letter K for Kites with a friend:
And we went to a playdate where we read the story
It Looked Like Spilt Milk
and made neat cloud/spilt milk pictures:
We also planted our vegetable garden this week. Whew! We've been busy!!! Be sure to check out
Carissa's site
to see what more tots are up to!