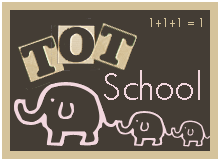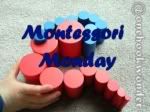 E is 31 months old
I have been enjoying all the posts from those of you who are getting ready to start a new school year. I am getting excited to start up again as well! So even though you haven't read anything from me related to school work for a while, it's on the agenda. I'm planning on giving E (and myself) the month off and we will be starting up again in September.
I have been thinking about what to work on with E and planning out our school time. Sometimes, I do think I enjoy the planning more than the executing. OK, who am I kidding, I ALWAYS enjoy the planning. Everything always works out perfectly in my imaginary dream planning world. Not always so in real life!
I'm hoping I can get E more interested in our Montessori materials - part of the reason why we're taking a nice break. I loved having K for the summer and he sure loved coming to do his "work," but E had some difficulty with him being here. She only wanted to do the materials he was working on - not her own - and he is a year and a half older than her. So they are definitly in different places! I'm hoping that we'll have a nice break this month and start in September with a clean slate.
Things I want to do with E this year (as far as preschool is concernced) are:
* continue with our Montessori work as much as she wants, setting aside at least 2 times a week to focus on it (but hopefully MUCH more!)
* utilize a "theme unit" twice a month or so. We're going to start with apples in September, but I am planning for this to be child-led for the most part. What we do for theme units around here is: lots of books about the subject, crafts, outings, games, and practical life and science works.
* continue with our letters of the week. We don't really do one letter per week, it's more like two a month or so. We'll finish uppercase and move to lowercase. I want to use the
Heavenly Homemaker's
new ebook
Learn Your Letters, Learn to Serve
along with this.
* learn by memory the prayer before meals, guardian angel prayer, and selected Bible verses. The verses will probably go along with our letters of the week.
* get outside more! I am pretty much an indoor kind of gal. Unless there is something specific to do outside, I tend to stay in. There is so much beautiful scenery and great parks around here, I want to visit at least one new park a week. (I guess that's not really preschool per se, but if I don't put it down somewhere, I won't hold myself to it!)
Happy new school year to everyone!