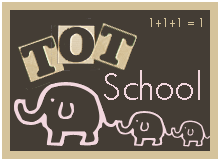 Another week, another Tot School post. I have been doing more and more research into Montessori and I'm trying to start incorporating more Montessori activities into our Tot School routine. I'm even starting to look at schools, as E will be 2 1/2 by the start of next school year. I need to decide if she's going to go to a school, or if we'll be doing it at home. Either way, I've pretty much made up my mind that it will be Montessori. Yay for decisions!
Tot Trays/Learning Toys:
Shape puzzle
Sorting and stringing different colored beads
Shades of yellow matching - she did a lot better with this than I thought she would!
We worked on our monkey letters like last week, we got through all of them this week! (without walking backwards)
Counting bugs and butterflies - E did this activity with my mom, so no in progress shots.
Alphabet/Book Basket:
Our letter this week was R. We did a couple of Tot Tray activities with it, like sorting capital and little R/r's. E loved to say "capital."
We used some new dot painters to paint letter R pages, both capital and lowercase. By the way, these dot painters were AWFUL! I didn't want to order the do-a-dots, so I bought something cheap at Michael's. I guess you get what you pay for!
We had our
letter of the week playdate
, where we read Rainbow Fish, made beaded rainbows, and played with our rainbow rice tub.
Montessori Practical Life:
E tried sweeping this week. I need to remember that she loves her little pom poms too much to do anything other than cuddle them. I did get her to sweep long enough to take a picture, but next time I'll be using beans or some other manipulative.
E is also learning to drink from a cup this week. Resulting in her wanting her shirt changed every 10 minutes or so, but I think she's picking it up.
Arts and Crafts:
We did fingerpainting this week. One picture we did all yellow for our color wheel project, another we did yellow and blue and discovered that they make green when you mix them!
We also did some color mixing activities at our
letter of the week playdate
.