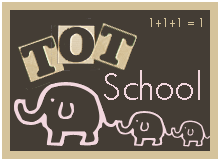 E is 24 months
I am so glad we are doing Tot School again on a regular basis. I was so happy to have my shelves finally, so E can really practice getting things out and putting them away. I've been reading up on Montessori lately, and that is one of the things I just LOVE about it - the care the children are taught to have with all the materials. E is definitely learning. I am waiting for the day it caries over to her toys . . . . .

We didn't get quite as much done this week as I had hoped, but SOMEBODY had a birthday and turned 2! So we had a bit of celebrating to do. And completely unlike me, I left the preparations for her party until the day before, so I had a lot of work to do!
Tot Trays/Learning Toys:
E practiced using a spoon by transfering stones from a bowl to an ice cube tray. She was very adamant that she only have the blue and green stones. I had to take all the other colors out!
We working on rolling and cutting with playdough. Cutting with scissors is still a little beyond her, but I like to put the playdough sicssors out for her to work with if she wants to. She'll never learn if I don't give her an opportunity!
Stacking up our tower of alphabet blocks. She got it pretty tall this week!
E put together her felt snowman again this week. It has been COLD here!
I tried a fun game with our monkey letters. First we layed all the cards out in order and E told me their names. Then I handed her another set of letters (still uppercase) and had her match to the ones on the floor. She did the first one great!
Then it got extremely boring and she decided she'd rather show me how she can walk backwards.

Alphabet/Book Basket:
In our book basket this week, we had letter F books and books by Eric Carle (The Very Hungry Caterpillar was the theme for her birthday party)
Hooray for Fish by Lucy Cousins
Feathers for Lunch by Lois Elhert
Swimmy by Leo Lionni
The Wide Mouthed Frog by Keith Faulkner and Jonathan Lambert
The Very Hungry Caterpillar by Eric Carle
The Very Busy Spider by Eric Carle
Pancakes, Pancakes! by Eric Carle
Head to Toe by Eric Carle
Brown Bear, Brown Bear What do you See? by Bill Martin, Jr.
E's favorite this week was Hooray for Fish. This has been a favorite book of hers for a while, but it is very popular, and almost always checked out from the library. She was so excited to see it and it was perfect for our Letter F day. Mommy's favorite was a tie between Swimmy, because we did a neat activity with it, and The Wide Mouthed Frog. I love pop-up books! I used this one when I was an elementary music teacher to teach high and low. The frog has a big low booming frog voice until the end, when he scrunches up his lips and uses a screechy little high voice to say "Oh, you don't see many of them around, now do you?"
We did a letter F for feathers to put on our fridge.
Arts and Crafts:
We started our color wheel project this week with the color red. I had a lot of activities planned for it, but all we got to was the shades of red painting.