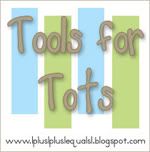 E needed some new tot school activities, and I have a box full of felt bits and pieces - time for a couple of felt sets for Christmas! I'm working on a Nativity one, but it's a little more complicated. Here are the easy ones I whipped up in about 20 minutes the other day during naptime.
Snowman with several outfits. Two scarf and hat sets, plus a top hat and vest. Also a carrot nose and some arms. You can't have a snowman without arms! We will work on body parts and where things go. The hat goes on the head. The nose goes on the face. That kind of thing.
Christmas tree with ornaments. There are three of each color, except no green. We can do counting with these and color recognition.