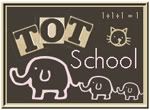 We had a busy week of school and other activities last week. So busy, I couldn't get to the computer to write about it! So busy, in fact, I forgot to take a lot of pictures. But I guess that's how you know we've been working hard!
This week I presented part of the "metal insets" to E. We don't actually have metal insets, we are just using our geometric cabinet. I discovered a few weeks ago that she could trace the inside of a stencil, so I wanted to pull this out for her. She was so excited about it! Right now, we are only working on the first step, tracing the inside of the frame.
E also really likes the new language works I've put out this fall. The Laurie word puzzles are her favorites right now.
She has also done some beginning sound sorting with our alphabet box and the alphabet cards from
Montessori for Everyone
.
She does not choose sensorial work very often. I certainly hope that changes as she gets a bit older! But this week she did choose to work with the matrushka dolls. (Ours are from the Simpsons - ha!)
Practical life work this week included things like sweeping pom poms off the floor and helping to clear the table and load the dishwasher after dinner.
We started our apple unit this week, and did a couple of art projects. E painted green leaves onto a tree trunk, and then glued red pom poms down for apples.
Later in the week, we did some apple printing (though the final product doesn't really look like it!) and made a letter A for Apple Prints to hang on our alphabet wall.
You may remember one of my goals for school this year is to get outside more. We had planned to go on a short hike in the mountians this week, but then there was
this fire
. So we settled for taking a walk around a pond near our house and playing at the park. Still lots of fun, and hopefully the fires (yes, now there are more than one!) will be calmed down by the end of this week and we can go to the mountians then.