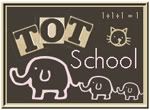 We are finally settling down into a routine! Hopefully that means I will find a bit more time to blog about what we've been up to. Right now, we are doing school time Tuesday, Wednesday, and Friday mornings. I am trying to make at least two of those days work time in the school room, Fridays are sometimes work time in the school room, and sometimes other projects to go with our theme.
I have dubbed this week "the week of towers." E chose to work with all the sensorial materials that she has been avoiding. She built stairs and towers with the pink tower, brown stair, and yellow and green knobbless cylinders. First, she built each material as a staircase, and then she stacked them up to make a tower.
Other sensorial work she chose this week included the geometric solids - doing a card sort of sphere and cylinder, shape tiles, and the sound jars.
E is still into all the language works I have put out. This week, I changed up her begining sound sort. Now she's working on /t/ and /f/. She gets it in three ways: our alphabet box (if she asks to do the alphabet box, those are the drawers I pull for her), the sound sort cards, and our alphabet BOB books (I leave STU and EF out for her on top of the box). I also changed out the Laurie CVC puzzles, now she's working on car and pig.
E also learned to put together the whole continent puzzle on her own this week! That's quite an accomplishment for her - puzzles on the whole are not her strong suit.
As far as practical life activities go, E has been helping me in the kitchen quite a bit. This week she helped me make Chocolate Chip Oatmeal Muffins. No pictures of that, cooking with a 2 1/2 year old is enough - I don't need the camera, too!
On the shelf, she worked with the clothespin color wheel, as well as tonging apple buttons into an ice cube tray (she ended up using her fingers instead), and our spooning material.
This week was one without art projects! I know, I know, how could I let the week go by!! We've been playing a lot of games instead. E's favorites right now are from our Leap Frog game box: Alphabet Go Fish and Dominoes. She's getting pretty good!
Outdoors time this week was a visit to a farm. This was such a fun trip! I'll have to do a separate post on that, because I used the film camera and the pictures are all still being developed.
Linking up to
Tot School
and
Toddler Tuesday
.