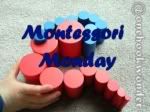 I'm still having internet issues, so Montessori Monday is up on Tuesday. Oh, well. The issues probably won't get resolved until August, so bear with me! This week, I had one stubborn 2 1/2 year old and one 3 1/2 year old monkey in school. Isn't
that
fun?!? E is reacting, I think, to the fact that I am spending time working with K instead of solely with her. And K just has a fantastic imagination. This week he pretended to be Curious George. He did work, and worked well for the most part - just pretended to be a monkey the whole time! I am debating on whether I should run with this, and create a few monkey works for him - how about a monkey/ape sorting activity - or downplay the whole thing so he doesn't get out of hand.
Sensorial:
E worked on geometric solids. She worked on matching them to their face cards again. I finally got around to getting the cards from Montessori for Everyone, so hopefully we can work with those this week. E really likes the ovoid shape. She put everything else away, but wanted to carry that one around to do her other work.
I presented the circle and rectangle drawers from the geometric cabinet to E. She enjoyed them and wanted to do more drawers, so I guess I know what's on the agenda for this week!
K worked with the yellow and green cylinders, matching them up together.
I also presented the brown stair to him.
Practical Life:
E and K both got to cut bananas for snack.
K's favorite activity is STILL sorting the fruit!
We did a little spooning and pouring, I think I need to change out those activities so they'll be more interested.
Language:
Both kids have been interested in the sandpaper letters and alphabet drawers. And I've been scouring my home, trying to find small objects to put into the alphabet drawers! I had K do a sort between two drawers, then of course E wanted to do it too! I do have a few more drawers available now, so that made it more fun. They loved finding new objects!
K worked with sandpaper letters and the sand tray. He loves this and wants to do the whole alphabet!! I think I'll start him on some more pre-reading skills, and pull out the moveable alphabet for him.
Math:
K worked more with the counting sticks. He asked me to make more for the rest of the numbers. (Mine only go to 5). I don't think more stones will fit on the sticks, so I guess it's time for cards and counters!
E loves to work with the sandpaper numbers. She traces them (sometimes even correctly!) and names them. Sometimes we work on putting them all in order. She wants to be like K and write the numbers in the sand tray, but usually we just end up making shapes and pictures instead.